Starting October 20, 2021, our online banking environment will include a new security feature called 2-step verification. Once you have set-up 2-step verification on your Mainstreet online banking or mobile app account (reminder to do so by November 23, 2021) you will be able to update your online banking Personal Access Code (PAC)/password yourself, at any time.
Follow these simple steps if needing to re-set your PAC/online banking password:
Step 1: Click "Forgot Password?" under the login button on the online banking login page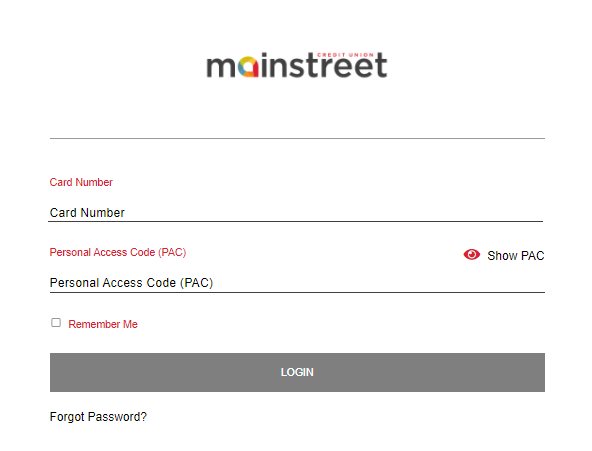 Step 2: Enter your Mainstreet debit/MemberCard number used to login to online banking and the last 3 digits of your SIN. After the information is entered press "CONTINUE".
Step 3: You will then be asked to verify it is you through 2-factor authentication (remember you have to have 2 factor authentication set-up on your account before you can use self-serve PAC/password re-set). You will be asked if you would like to receive your authentication code by text or email if you haven't already set this preference up. Then click "CONTINUE".
Step 4: On the next page, you will input the code that you have been texted or e-mailed and click "CONTINUE". Ensure you use the code within 10 minutes or it will expire.
Step 5: You will be directed to a page where you select a new Personal Access Code (PAC). Type your new online banking password (PAC) on both lines and then select "CONTINUE".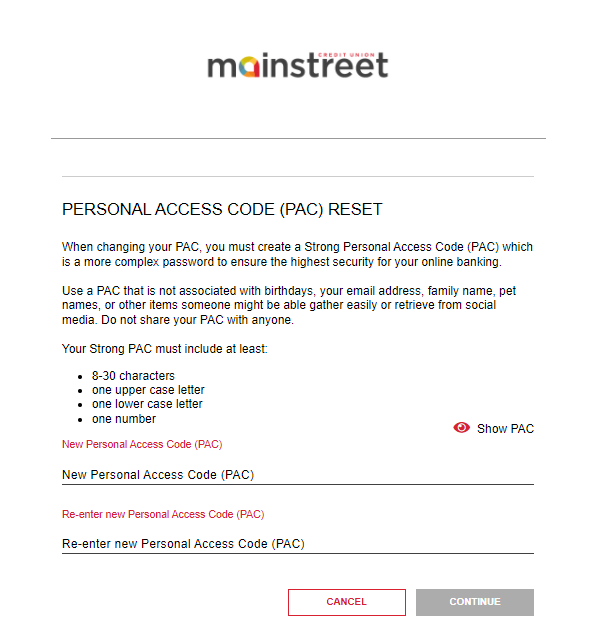 Step 6: You will then be re-directed to the following "success" confirmation page that your new password has been accepted. It is now time to login to online banking with your new PAC. Click "GO TO LOGIN" button to do your banking.